Collecting sneakers has become a popular hobby and passion for many people around the world.
By 2026, analysts predict that the sneaker industry's market value will surpass $100 billion. It's safe to say that collecting sneakers has become more than a flash-in-the-pan trend.
That means it's never a bad time to start a shoe collection and start learning the basics. But there are so many types of shoes to choose from, finding a starting point isn't always simple.
The following guide will explore the best tips for starting a sneaker collection on any budget.
Find What You Love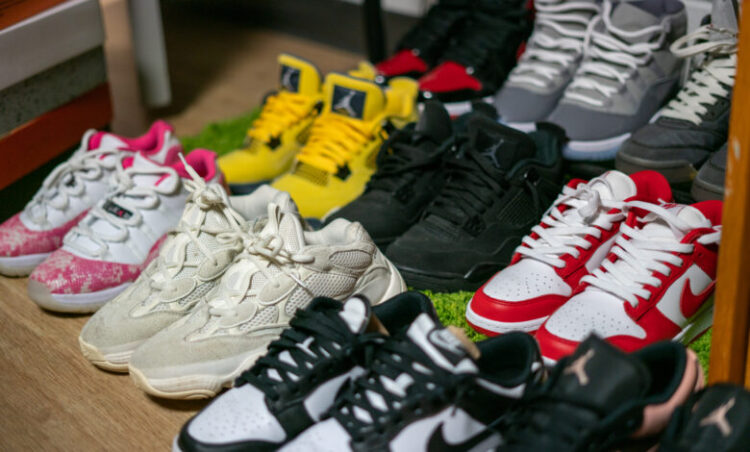 Forget focusing on the most expensive or the most famous sneakers and stick to what you love. If you're collecting those that you're passionate about, learning more about them won't become a chore.
It also gives you a specific category to focus on which narrows down the choices for a less overwhelming experience. You might only want to focus on pricey sneakers worn by famous athletes or focus on those from your childhood with sentimental value. You can break the bank on a few rare sneakers or line your closet with pair after pair of more affordable ones. Throw out the rulebook and make your collection unique to your interests and style.
Sneaker Terminology
The term colorway involves a sneaker's unique combination of colors. Some color combinations are very common and others have limited releases that raise their value.
The term deadstock essentially means a brand new condition or a sneaker that wasn't worn in the past. Just be careful because a space between the words dead and stock might mean they didn't sell well!
Drops refer to shoes with a lot of hype and they typically have limited supply runs. Examples include limited colorway releases and special one-of-a-kind collaborations.
Game-worn sneakers mean that an athlete wore them during a competition. Game-issued ones mean that the shoes got created for a game, but never worn.
Retro shoes, such as the Air Jordan 7, involve re-releases of a model or color combination from past years. If you want the original model, look for the term OG. Sometimes OG sneakers undergo "sole swaps" to fix old damaged shoes. Finally, samples refer to those created before a full release such as mock-ups. They're usually extremely rare and use top-quality materials that collectors love.
Value Tips
If you see the term provenance, it refers to a shoe's previous ownership. This might include how they got sourced and who might have worn them.
For game-worn sneakers, always check for photo matching. That means identifying the authenticity of a shoe by marks left from a game. Examples include grass stains, mud, or even marks from blood.
Other factors that authenticate value include materials, tagging, and wear. If they include an autograph, always contact a professional to make sure it's authentic.
Today, collaborations bring staggering value to different sneaker offerings. Not to mention, they also allow for a lot of fun and unique designs you wouldn't ordinarily find in stores.
For example, Louis Vuitton and Nike teamed up to make a special luxurious version of the Air Force 1. Travis Scott also partnered with Nike to make a streetwear collab model called Jordan X.
Watch Out For Fakes
It's always important to check for craftsmanship when you buy sneakers, especially if you shop online. There's a huge counterfeit sneaker industry that lurks in the shadow of the sneaker industry.
Always inspect details like stitching and fonts used on a shoe's tongue tag and check for abnormalities. If you need a closer look at an area of a shoe, ask the seller to provide more pictures.
If you still can't quite tell if the shoes are real, post the pictures to a social media site or some forums. Let your fellow sneakerheads help you decide if the shoes are the real deal.
Finding Affordable Sneakers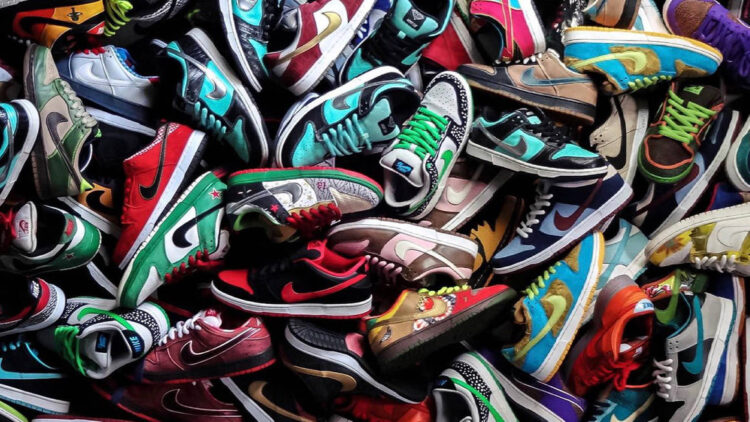 You don't always have to spend a fortune to get a sneaker collection up and running. You can always start with bargain sneakers and mix in pricier pairs later when it makes sense. Check out outlet stores, thrift shops, and eBay listings to potentially find a few affordable gems for your collection. It might take a lot of time and research to find a deal, but it's a satisfying feeling when you come across nice sneakers at a great price.
Keep Your Kicks Clean
Whether you find a bargain on eBay or break the bank on resell prices, you'll want to keep your sneakers clean. After you wear them, always take time to support them. Use a dry and soft brush to get rid of any loose dirt on the outer sole, midsole, and top area of your sneakers. If necessary, use a mild solution to help remove stains from your shoes.
Always hand-wash sneaker laces rather than running them through a washing machine. Even though the soles aren't visible, don't forget to wash them to keep your shoes fresh.  Finally, wash and blot the upper part of your sneakers after you wear them. Only air dry your shoes and never stick them in the dryer or you might damage them.
Start Collecting Sneakers
You can start collecting sneakers now that you know the basic terms and how to care for them. Remember, spend less time focusing on dollar signs and more time searching for styles that mean something to you.
If you're only starting a shoe collection for resale purposes only, don't expect to have nearly as much fun! Take a look at the rest of our site for more tips about trends and hobbies you must know.
Where to Buy Sneakers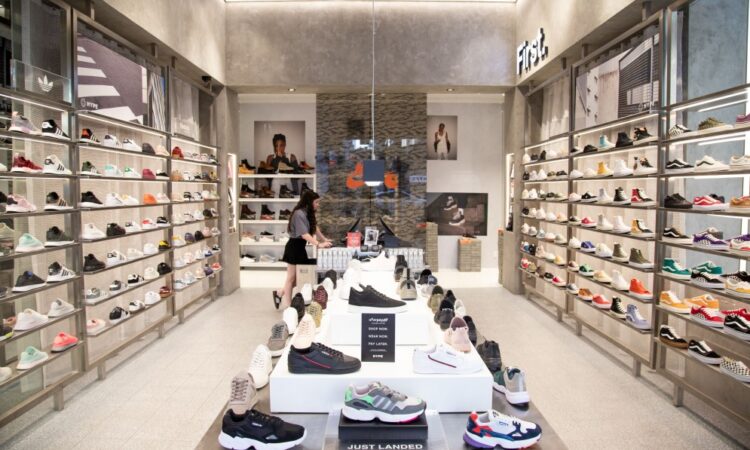 There are a few things to keep in mind when purchasing sneakers as a collector. First, it is important to know what you are looking for. It is also important to do your research ahead of time and be aware of the current market value for the sneakers you are interested in. Additionally, it is important to purchase from a reputable source and to inspect the shoes carefully before making a purchase.
Some good places to start your search for shoes include online retailers like StockX, Stadium Goods, and GOAT, as well as brick-and-mortar stores like Undefeated, Sneaker Politics, and KITH. You can also check out sites like eBay and Grailed for more affordable options.
When purchasing shoes online, be sure to read the descriptions carefully and check the photos for any signs of wear or damage. If you are unsure about anything, reach out to the seller for more information. When buying from brick-and-mortar stores, be sure to try on them before you buy them and inspect them closely for any flaws.
No matter where you purchase your shoes from, be sure to take care of them properly once you have them in your collection. Store them in a cool, dry place away from direct sunlight, and clean them regularly with mild soap and water.