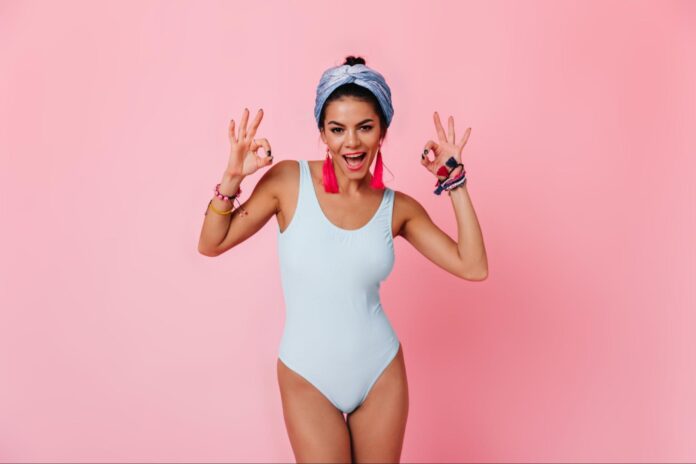 As the sun shines brighter, and the call of the beach becomes irresistible, it's time to update your swimwear collection for the summer season. While choosing swimwear, it's essential to consider not only the latest styles but also how the colors complement your skin tone. Just like with regular clothing, swimwear that suits your skin tone can enhance your overall appearance and make you feel confident and beautiful.
In this article, we'll explore how to select swimwear that best suits your skin tone and highlight some popular styles, including swimwear and knit wears.
Identifying Your Skin Tone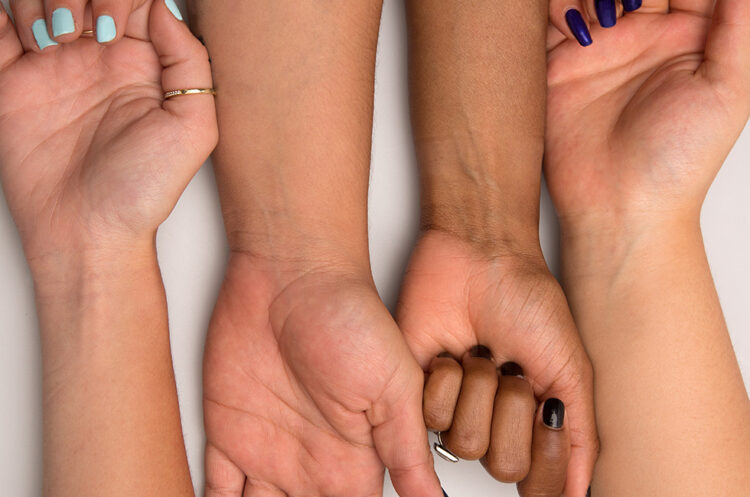 Before diving into swimwear choices, it's crucial to identify your skin tone. Generally, skin tones fall into three categories: cool, warm, and neutral. If your skin has pink or bluish undertones and you burn easily under the sun, you likely have a cool skin tone. Warm skin tones have yellow or golden undertones, and individuals with this skin tone often tan easily. If you have difficulty determining your skin tone, you might have a neutral tone, which means your undertones are balanced between cool and warm.
When it comes to choosing the perfect swimwear, one important factor to consider is your skin tone. The right color can enhance your natural beauty and make you feel confident at the beach or poolside. But with so many options available, how do you know which colors will best suit your skin tone?
First, let's understand the different skin tones out there. Skin tones can generally be categorized into three main groups: warm, cool, and neutral. Warm-toned individuals have peachy or golden undertones with veins that appear greenish. Cool-toned individuals have pink or blue undertones with veins that appear bluish. Neutral-toned individuals usually have a mix of warm and cool undertones.
Warm-toned individuals tend to look stunning in earthy hues like oranges, yellows, browns, and olive greens. These colors complement their natural warmth and bring out a radiant glow. Cool-toned individuals shine in shades like blues (both light and dark), purples (such as lavender or lilac), pinks (from baby pink to fuchsia), and silvers. These colors play up their coolness while adding a touch of sophistication.
Swimwear for Cool Tones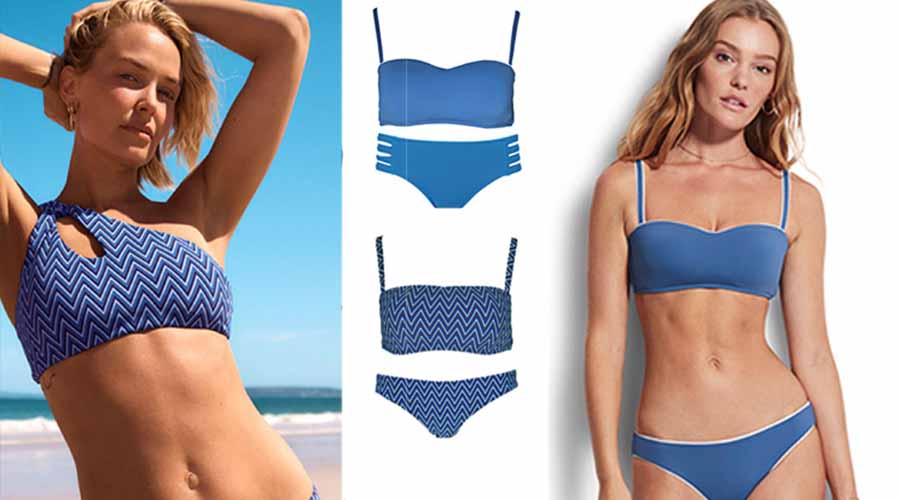 If you have a cool skin tone, swimwear colors that complement your complexion include jewel tones such as sapphire blue, emerald green, and amethyst purple. These rich, vibrant colors bring out the cool undertones in your skin and create a striking contrast. Opt for classic navy or deep plum beach swimsuits for a chic and timeless look. Pastel shades like mint green and periwinkle also work well for a soft and feminine appearance.
For those with fair skin tones, soft pastel shades like light pink, lavender, mint green, or baby blue can complement your complexion beautifully. These colors create a delicate contrast against fair skin and give off a romantic and feminine vibe. If you have medium or olive skin tones, earthy hues such as rusty oranges, deep greens, warm browns, or rich purples are some great options for you. These colors will bring out the warmth in your complexion and make it radiate under the sun.
For those with darker skin tones like deep brown or ebony, bold jewel-toned swimsuits are an excellent choice. Colors like emerald green, royal blue, ruby reds or vibrant yellows will pop against your skin tone and create a striking visual effect.
Swimwear for Warm Tones
For those with warm skin tones, swimwear in earthy tones like terracotta, olive green, and burnt orange will look stunning against your complexion. Warm tones like coral, peach, and mustard yellow can also accentuate your skin's natural glow while you are on a summer evening beach. Avoid colors that are too cool, like icy blues or silvery grays, as they may wash out your warm undertones. Instead, opt for swimsuits that embrace the warmth of the sun and complement your natural tan.
For those with an hourglass shape, embrace your defined waistline by opting for high-waisted bottoms and bikini tops that provide ample support. This will accentuate your curves in all the right places. Avoid anything too boxy or shapeless as it may hide your gorgeous proportions. If you have a pear-shaped body with wider hips than shoulders, balance is key. Look for swimsuits with detailing on top like ruffles or patterns to draw attention upward. Bottoms should offer full coverage and be darker in color to minimize the focus on your lower half.
If you have an athletic build with broader shoulders and narrower hips, create curves by choosing swimsuits with ruffles or frills at the bust line or hip area. Opt for bikinis with adjustable straps so you can customize the fit to flatter your specific body shape.
Swimwear for Neutral Skin Tones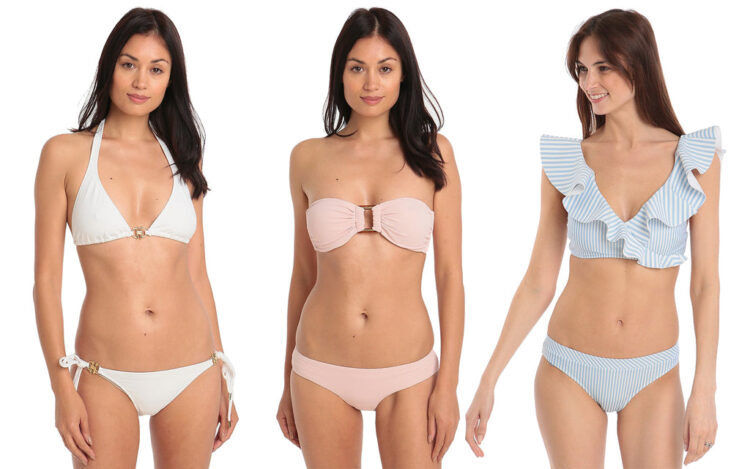 If you have a neutral skin tone, you're fortunate to be able to wear a wide range of colors. You can experiment with both cool and warm shades to find what suits you best. Colors like teal, lavender, and dusty rose can enhance your natural complexion. Neutral tones such as taupe, beige, and cream will also look fantastic and provide a sophisticated and refined look.
When it comes to selecting swimwear colors for your skin tone, consider whether warm or cool tones complement your complexion best. Experiment with different shades and patterns to find what works for you. And don't be afraid to step outside of the traditional choices – sometimes unexpected color combinations can create stunning results!
Swimwear and Knit Wears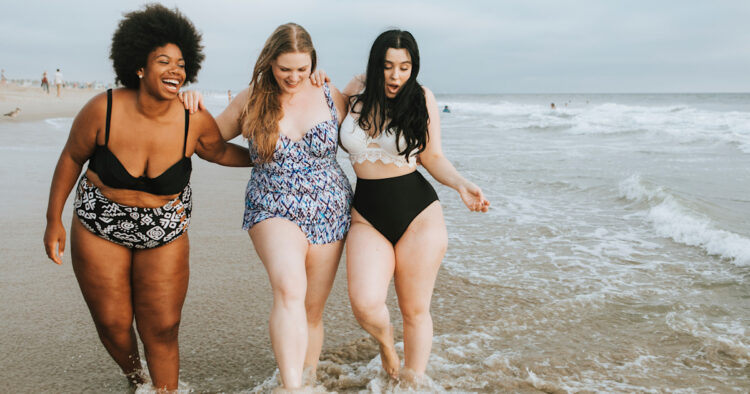 Apart from choosing swimwear based on your skin tone, consider the styles that flatter your body shape and highlight your best features. Various swimwear and knitwear styles are designed to cater to different body types, ensuring that every woman can feel comfortable and confident at the beach or poolside.
Swimsuits come in a variety of styles, including one-piece swimsuits, bikinis, tankinis, and high-waisted bottoms. One-piece swimsuits offer excellent coverage and support and are perfect for a timeless and elegant look. Bikinis are a popular choice for showcasing your curves and getting the perfect sun-kissed tan. Tankinis provide more coverage with the convenience of a two-piece design, and high-waisted bottoms offer a retro-inspired and flattering silhouette.
Conclusion
Selecting swimwear that best suits your skin tone is an essential aspect of looking and feeling fabulous during the summer season. Whether you have a cool, warm, or neutral skin tone, there's a wide range of swimwear colors and styles that will complement your complexion and enhance your natural beauty. Additionally, considering the different swimwear styles and knit wears available ensures that you find the perfect pieces to flatter your body shape and exude confidence as you soak up the sun. With the right swimwear, you're ready to make a splash and enjoy a stylish summer by the water.