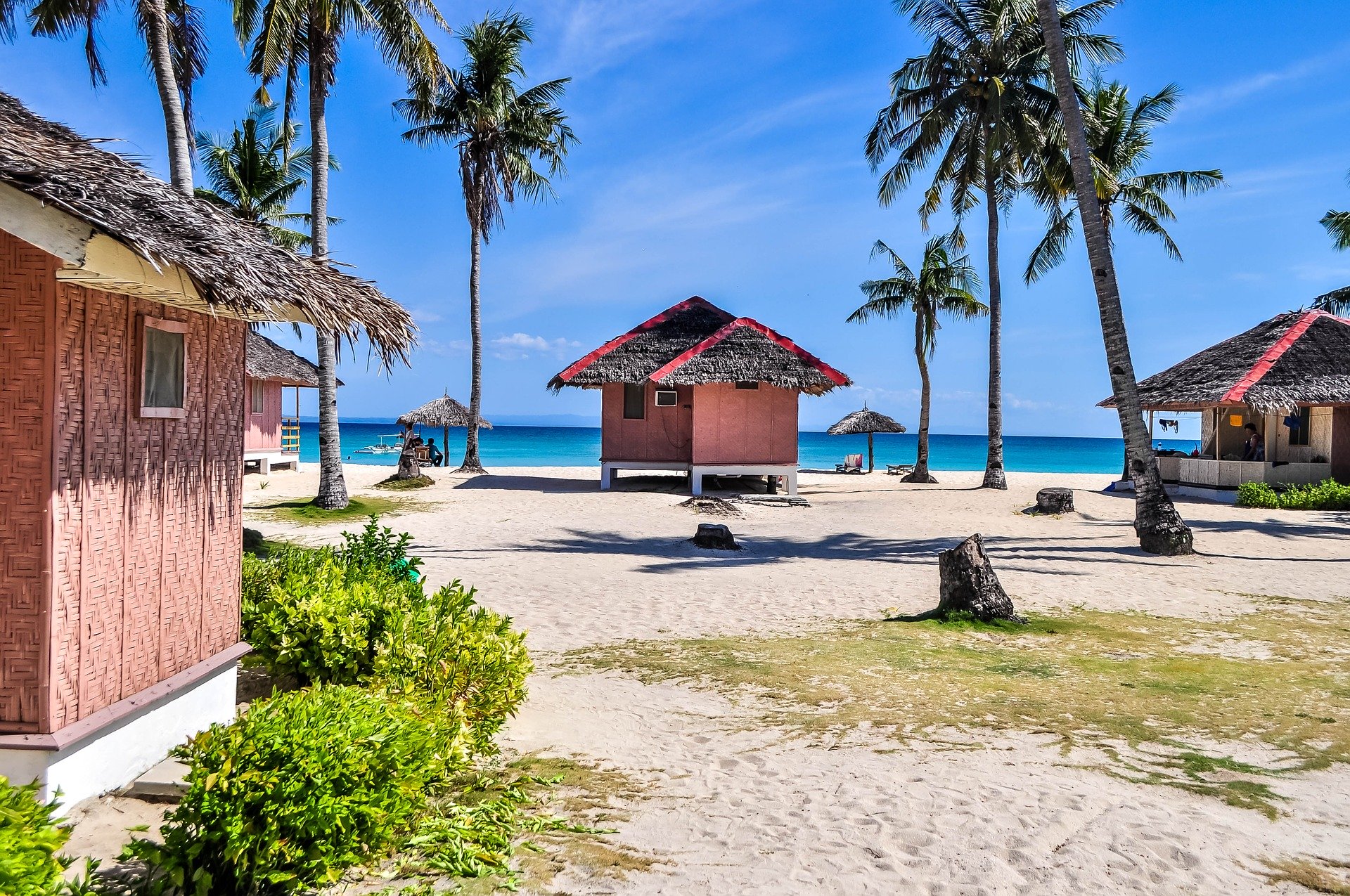 This Easy and quick guide on the Best Flooring for Coastal Homes will give you coastal living flooring ideas. You will be able to decide which will be the best beachy floor tile for your coastal homes after reading this blog post.
The Best Flooring for Coastal Home
Porcelain Tiles by far the best Flooring for coastal homes because it has 0 to 5 wear ratings as per ISO. Its water absorption rate is less than 0.5%, easy to clean, durable, and higher strength so that porcelain material is by far the best for the coastal homes.
Luxury Vinyl is also the Best Flooring for your beach homes because it is 100% waterproof, scratch-proof, easy to clean, and cheaper.
Strand Oven Bamboos are the other best option for the Flooring of a coastal home because it gives the hardest Flooring, withstand high traffic, and endure moisture.
[Disclaimer: This post may contain affiliate links. This means
As an Amazon Associate, I may earn commission from qualifying purchases with
no additional cost to you.]
If you have a beach home or planning to buy one, it's an excellent choice to go with. Beach homes are cool to spend summer vacations there. A short stay at a beach will make you happier, relaxed, and calm. You will get a chance to have a beach therapy, do meditation in the open and walk in the fresh air that will positively affect your health. Self-realization will be best made there at the coast during the beautiful scene of sunset and sunrise.
However, if you own land near a beach, and want to build your vacation home near a beautiful water panorama, but stuck in choosing the Best Flooring for your Coastal Home. Then you are in the right place; you will figure out the best match for the floorings of your beach home.
 The idea of living near the beach seems incredible, but as far as flooring concerns, there are several factors that you need to consider before selecting Flooring for your Coastal Home. One wrong decision will add lousy experience in your stay there, or it may seem reasonable initially, but later on, it can create annoying experiences. So, one should carefully select the Flooring for a Coastal Home to make the stay joyful and memorable.
There are many flooring options available out there, but not all of them fit in a coastal home living lifestyle. The Best Flooring for coastal homes must be water-resistant with an aesthetic design that appeals to the person living there or taking a look at the house from the outside.
It is refreshing to have the beachy floor tile in your beach home's exterior area because it is visible to all folks passing by your Home. However, it is imperative to have pre-thinking of some of the essential factors before selecting the Best Flooring for Your Coastal Home.
Among these, Sand is the most annoying factor. If you are already living near the seawater, you might have felt minor worry about Sand, which is continuously coming in, and you need to through it out. Thus, it would be best if you consider the Sand factor while choosing the Best Flooring for your Home at the beach.
Besides Sand, the humidity factor is crucial that should be considered while going for choosing the Best Flooring for the Coastal Homes. As the sea will not just view your coastal Home, it is an extended area for your seaside Home. Opening windows will allow salty air, and thus your Home's humidity is also a part of your coastal living. Hence, be vigilant while picking the Best Flooring for Your Coastal Home.
Now I am considering you have decided to enjoy the coastal life. So making plans for every single point is essential. It is so exciting too. Isn't it?
But listen! Do you experience utter confusion when you ask yourself what might be the Best Flooring for Coastal Home?
Don't worry then. It's not only you; instead, many like you also confront this situation.
Just hold your seat tight. I am going to show you which might be the best match for your dream beach home flooring.
I promise you at the end of this fantastic fact-based article; you will have a clear decision about what will be the best Flooring for your coastal Home.
I will explain all terms in the complete layman language so that the information provided in this article will be ridiculously easy to digest to decide Best Flooring for Your Coastal Home.
I have considered the top 4 flooring options that can be proved the best Flooring for Coastal Homes. These are the following.
Porcelain Tiles
Engineered Hardwood
Strand Oven Bamboo
Luxury Vinyl
In each available option for beach home flooring, I have discussed its advantages and disadvantages so that you will be able to analyze things better.
Let's discuss them one by one…!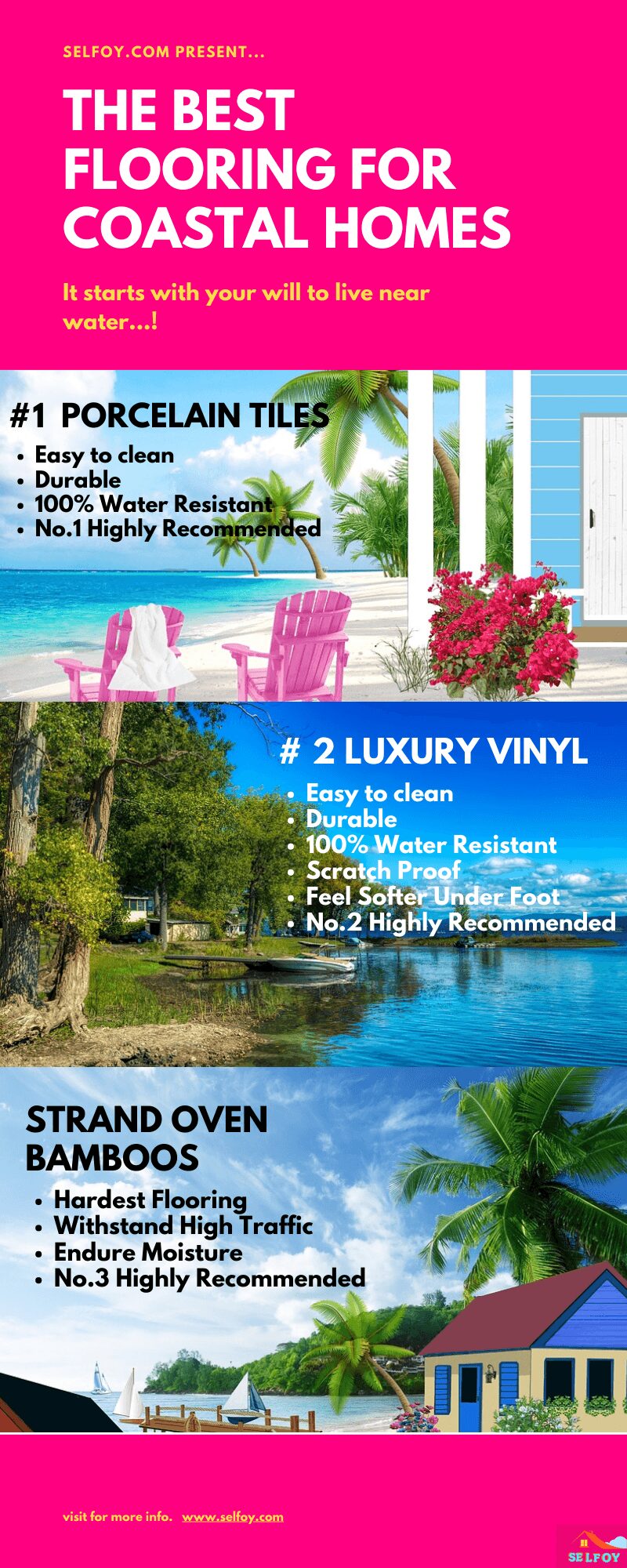 Porcelain Tile Flooring
Porcelain tiles are the Best Flooring for Coastal Homes because they can exactly look like Hardwood and Bamboo Flooring. 
Porcelain Tiles have a rating that is graded from 0 to 5 as per ISO 10545-7 (Also from ASTM C1027) test for glazed tiles (Shiny Coated) and thus showing its suitability for coastal home flooring. Its water absorption rate is less than 0.5% makes it the best match for Coastal Home Flooring.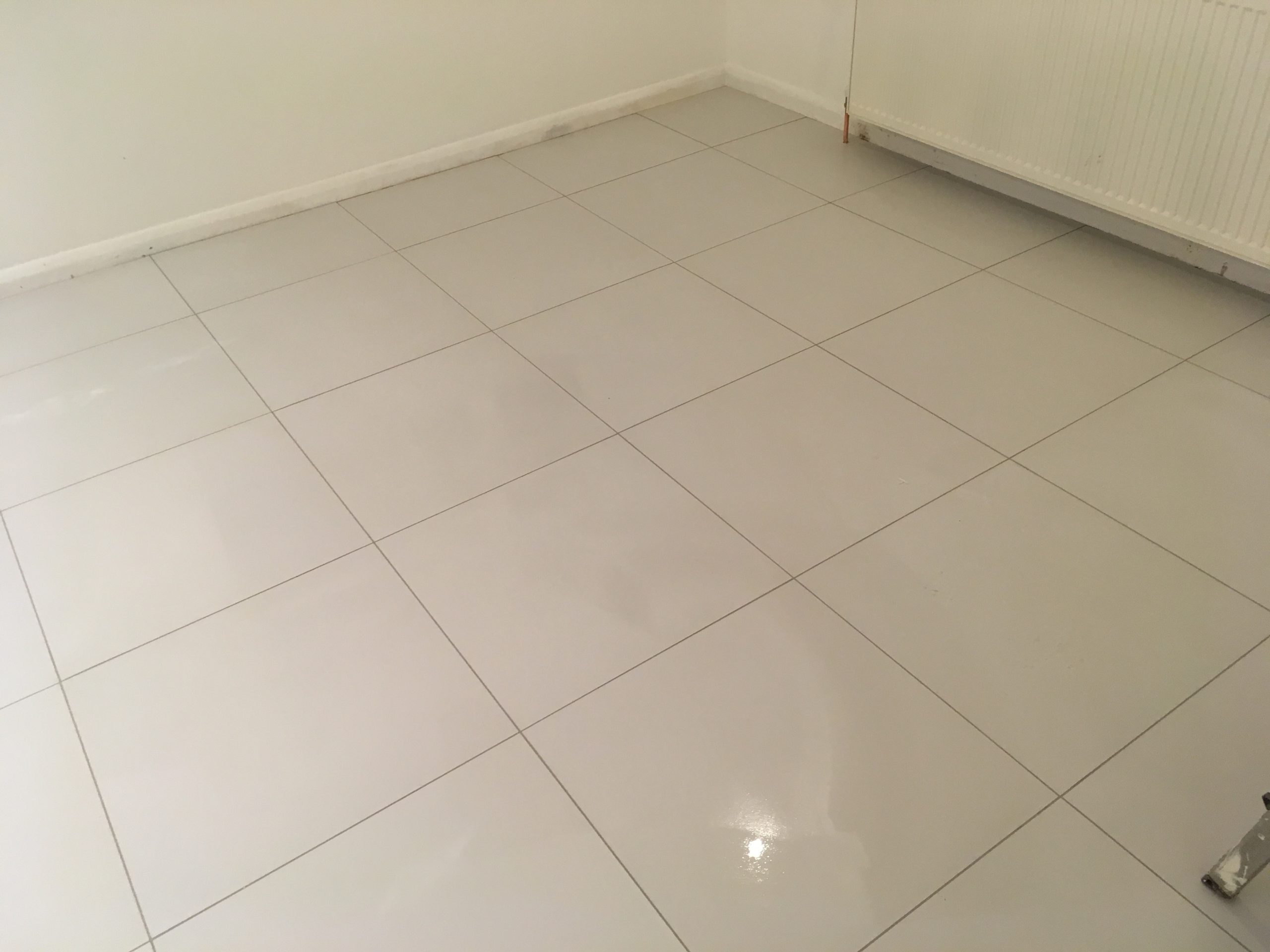 Porcelain Tiles are fantastic, as you can see in the image above. These are available in the market with a variety of designs.
If I talk about porcelain tiles, I remember one of the memorable incidents in my life. I would love to tell you that—a day jug of water fallen on our home flooring, which is of porcelain tiles.
I just came in a rush, and you can imagine what might have happened. Yes! I slipped. So this is a minor issue with some of the floorings, including porcelain tiles too.
So you must be careful with it. I know I might have known this fact previously, but I became a little nostalgic while writing this blog post.
Advantages of Porcelain Tiles
Durable
Easy to clean
High strength- because of its nitrification process (Clay combine with other materials such as quartz, and silica).
Disadvantages of Porcelain Tiles
Higher Price (not much budget-friendly)
Heavier in weight(require extra labor work)
Engineered Hardwood Flooring
Engineered hardwood flooring might not be a suitable option for the best home flooring for the beaches, because of its inability to withstand in the moisture.
It cannot be exposed to a lot of moisture and makes your feet a little uncomfortable while walking. Floor tiles can considerably overcome this problem with a vapor barrier. Even though generally wood products soak up water very quickly still it is the most popular and Best Flooring for Coastal Homes.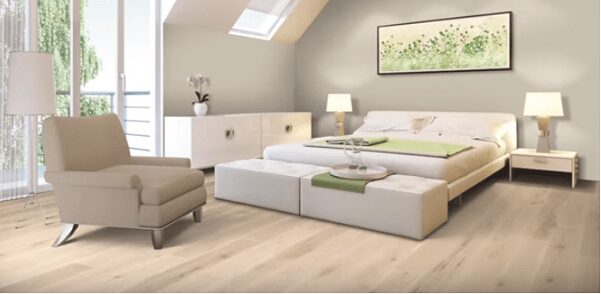 Engineered Hardwood flooring has natural strength and stiffness characteristics of wood.
It gives a structural and attractive look and has many design options without compromising its structure.
The best quality, a broader range of styles, and reasonable rates make the Engineered Hardwood Flooring stand out of the other options available as the Best Flooring for Coastal Homes.
You will get it under 2 dollars per sq foot, and little bit better options are available in the range of 5 to 10 dollars per sq Foot. It looks beautiful once installed.
Engineered Hardwood flooring has less withstanding ability in moisture than others, but if sealed properly, it can last long years.
Advantages of Engineered Hardwood Flooring
A wide range of styles and colours
Stunning look
Affordable
Disadvantages of Engineered Hardwood Flooring
Unsuitable for outdoor application
Readily soak up water.
Strand Oven Bamboo Flooring
Strand Woven Bamboo is a trendy and best wood for beach house. Strand oven bamboo flooring is the best option for beach home flooring because of its natural look and durability. Extreme heat is applied during the production of Strand woven bamboo, so its strength increases considerably. It gives a beautiful look to your floor and is two times harder than regular bamboo.
It is one of the hardest floors in the marketplace. It is designed to withstand high traffic and endure moisture (Mentioned in advantages).
Strand oven bamboo flooring created by the application of extreme heat, and due to that, its durability increases considerably.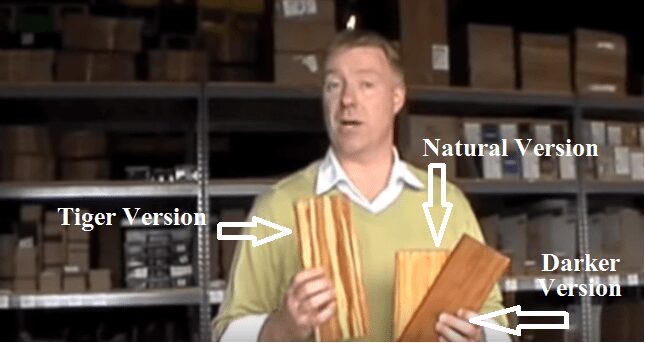 Strand bamboo flooring gives a beautiful look to your floor. Strand oven bamboo is two times harder than regular bamboo.
It is one of the hardest floors in the marketplace. It is designed to withstand high traffic and endure moisture (Mentioned in advantages). Thus, because of its incredible characteristics, strand oven bamboos are considered the Best Flooring for your Coastal Homes.
Types of Strand Oven Bamboo
Natural Strand Oven Bamboo
Darker Version Strand Oven Bamboo
Tiger Version Strand Oven Bamboo
Advantages of Strand Oven Bamboo
Durable FlooringFlooring
Hardest FlooringFlooring
Withstands high traffic
Resistant to moisture and stains
Disadvantages of Strand Oven Bamboo
Slippery surface, especially when wet
Luxury Vinyl Flooring
Wood and stone looks are available in Luxury Vinyl. It's one of the cheapest options. Luxury Vinyl comes in vinyl tiles, flooring tiles, and vinyl plank flooring.
Nowadays, it has become the most popular choice for coastal homes FlooringFlooring because of the characteristics it possesses. Few of them, I am going to explain below.
Luxury vinyl planks available (Thickness Size) in 1.5mm (Basic Size), 2 mm, 2.5 mm,3 mm,4 mm.
Nowadays, Upgraded size of luxury vinyl tiles/planks are also available such as 4 mm to 6 mm. Remember, thicker the tiles better and useful Flooring.
Even some thicker planks not required pasting also need to put on the floor, and due to its thickness, it will hold plain flooring surface very tightly.
One of the best qualities they have and that is they will not warp at all.
And Luxury Vinyl is ideal for those areas which are usually prone to moisture issue like coastal areas. They are effortless to install and probably doesn't need any power tools.
Advantages of Luxury Vinyl Flooring
 Feels softer under feet
Soundproof- dampens the noise
Real Wood Feeling
Scratches Proof
100% Water Proof
Resistant to moisture
Incredible durability
Easy to clean.
Affordable price
Effortless to install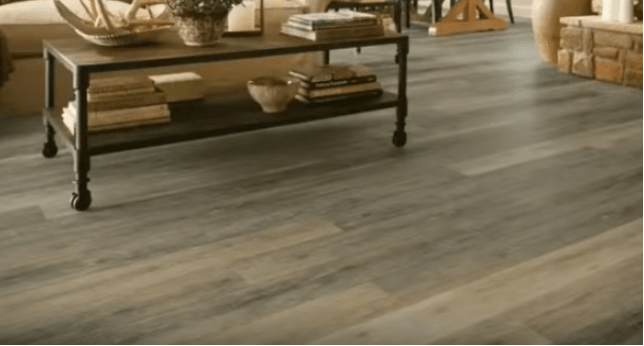 Disadvantages of Luxury Vinyl Flooring
Loss of hold with the time
In 99% of cases, this is not going to happen because your vendor will set it up correctly. But we are taking here 1% cases; this may happen, then re-pasting of that planks or tiles as soon as possible is extremely important. Ignorant leads to losing hold of other planks/tiles too.
Rooms that must care flooring considerations
If you're building a brand new house or making modifications to the one you have your needs could differ across your living spaces.
We've divided your house into three major areas that include the kitchen bathroom, the kitchen, and the living areas. There are a few things you'll need to remember when you conduct your research and final choice.
Kitchens
A lot of people believe that the kitchen is the heart of the house. It's not the place to prepare your meals, but it's also a place for gathering and entertaining particularly if you have an enormous island or open-plan.
In this highly-trafficked area must select flooring that's sturdy and easy to maintain and clean.
There's a chance of spills on your surface, so selecting the right option that's waterproof is crucial. Furthermore, surfaces that turn slippery or slippery when they're wet may not be the best choice, particularly in the case of children or any person who is at risk of falling or slipping.
In general, the best choices in the kitchen include ceramic tile limestone, natural stones, and wood which have been treated to make them water-resistant.
Bathrooms
While it's important to consider moisture in the kitchen but the bathroom, it's almost a given. Selecting a material that will endure the constant exposure to water's corrosive elements is crucial.
Ceramic tile, marble flooring, and natural stones made of limestone, as well as different stone flooring options such as granite, are popular options in this area. Kourtney Kardashian and her Kardashian twins, Khloe and Kourtney, have completed some noteworthy home improvements which included stunning bathroom stonework in the year 2016.
For a more affordable alternative vinyl tiles are acceptable, although they are they aren't as durable as tile or stone. Vinyl tiles can look cheap, but keep an eye out for high-end vinyl tiles to give your home a more elegant look. You can also skip the floor and opt for modern concrete flooring!
Living Spaces
Within the living spaces of your house including rooms like the family area and dining room and bedrooms, there are many options. The ideal option for you is based on your individual preferences.
A few people appreciate the comfort and durability of flooring made of hardwood or stone tile and also add rug area rugs to divide the space and provide an inviting surface beneath your feet. Some prefer the traditional feel of carpet floors.
The best way to narrow your choices is to establish your budget and then browse samples online to determine the colors, styles, and materials that are most appealing to you.
A perfect guideline for different types of flooring options.
Are you ready to pick a unique flooring type for your house? From beautiful hardwoods to inexpensive laminates to tough vinyl planks and tiles there are endless possibilities to choose from. With all the options available that homeowners are often unable to know where to begin.
To make it more straightforward, Twenty & Oak has separated each kind of flooring to allow the user to browse and learn about it. This way, you will be able to make the best decision about the ideal flooring to put within your home, so that it looks stunning and lasts for several years.
This is a comprehensive guide to the various types of flooring you can pick from.
Hardwood Flooring
The hardwood flooring style is the style that the majority of homeowners like and it's obvious the reason. Hardwood floors are sturdy with enough durability to endure places with high traffic and, if maintained, will last for many years within your house. Flooring made of hardwood is an investment that is worth it and can even improve a house's selling price.
Hardwood flooring is also a source of classic elegance and is available in a range of wood species stain colors and size options to fit any style of interior. It is possible to choose from traditional hardwood designs which are popular in homes that have old-fashioned charm, or the more modern styles of hardwood including a high matte gloss and rustic wire brushing and saw-mark surface treatments.
But there are a variety of factors to consider when deciding between engineered and solid hardwood there are distinct distinctions and many aspects to think about including the climate in your home and subflooring materials.
Hardwood
Solid hardwood is made up of an unfinished plank of wood, which is milled to an even width and thickness, with tongue and groove edges that join when installation.
Solid hardwoods are ideal for warmer climates and even though they can be set in the ground with the crawl space, they're best suited to the upper levels of your house. But, it is crucial to keep in mind that you should use the HVAC or humidity control. If not, in high-humidity environments, solid woods can be crowned or cupped or crown, which could cause buckles.
Engineered Hardwood
Contrary to solid hardwoods wood is suitable for all weather conditions and can be installed on any surface of your home.
One reason that engineered wood is so adaptable is due to its stronger construction. With several levels of wood veneers which are then topped by stained species that are coated in a urethane protective layer, engineered hardwood provides the cross-layer veneer design that is designed to cut expansion.
Waterproof Hardwood
Flooring made of waterproof hardwood is a brand new hybrid flooring style that combines the very best qualities of each. These stunning floors combine the toughness of waterproof core flooring and the attractiveness of real hardwoods using technological advancements. Because they are sturdy and flexible they are suitable for use in every room of the home-including bathrooms!
They will boost your home's value for resales like solid hardwoods, as they're real hardwoods! They also provide the perfect flooring that is safe for families with children and pets.
Laminate Flooring
Laminate flooring is like engineered hardwood in the sense that it is finished on the top layer, and seals that cover compressed fibers. The only distinction between engineered hardwood and laminate is that laminate does not have the authentic top wood layer. Instead, it gives the appearance of wood through an image that is captured using a camera. The actual wood.
Laminate's photo-realistic pictures can look like a lot more than wood. It's able to replicate the look of ceramic tile, stone, or even stained concrete. Did we say that laminate flooring is less expensive than the real material? For a fraction of the price, laminate flooring could create a space that looks like it was built with original wood plank flooring or give an elegant look with exotic marbles and stones.
Standard laminate flooring is a great option for homeowners who would like the gorgeous look of hardwood but want a less maintenance-intensive option. It's great for families with children and is it's an ideal flooring choice for pets and can withstand fade, stain, and indentations.
Conclusion
The best Flooring for coastal Homes will be porcelain tiles just because of its characteristics.
Then Luxury vinyl flooring and Strand oven bamboo are also highly recommended Flooring for coastal homes.
Now it's your turn to tell me which option you think might be the best Flooring for coastal homes.
Feel free to comment below and let us know about your opinion that which of the following you are considering as best flooring for coastal homes amongst below.
Porcelain tiles Flooring
Luxury Vinyl flooring
Strand oven Bamboo flooring
Engineered Hardwood.