Struggling to pick the perfect decking material for your outdoor project? You're not by yourself! There's lots of options, making it hard to choose.
This article will compare different decking materials, so you can make a well-informed decision.
Pros and Cons of Different Decking Materials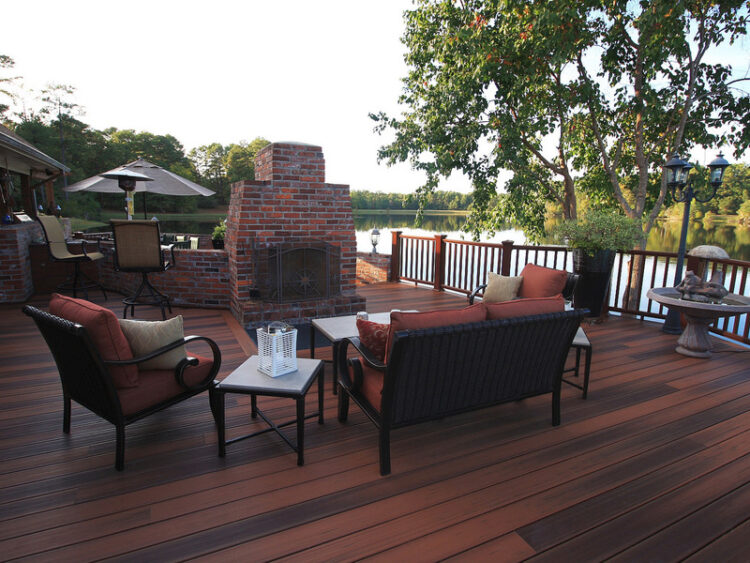 Finding reliable deck builders for your project can be a challenge. Thoroughly researching and comparing the pros and cons of the available decking materials is essential.
Wood: Wood is a classic choice and cost-effective. It is durable, easy to clean and repair and provides an attractive, natural look. However, it needs to be treated with a water-repellent sealer prior to installation if exposed to moisture. Wood should also be cleaned and resealed annually (or more frequently with heavy use) to maintain its lifespan.
Composite: Composites are becoming popular for decks due to their low maintenance and aesthetic appeal. They have a longer lifespan as they are resistant to insect infestation, rot, splintering, warping or fading. However, they require specialized installation equipment and labor costs depending on the size of the build project area.
Metal: Steel or aluminum are strong options that offer superior weather protection due to rust resistance. However, they require specialized tools when being installed and may need interior support beams, depending on size. Metal also offers limited color selection without additional coatings. This adds to initial costs for customization. Metal is suitable for patios that will see regular use for activities like grilling, hosting or outdoor gatherings.
Maintenance Requirements for Decking Materials
Choosing the right decking material depends on how much time you want to spend maintaining it. Different materials have different requirements. Here's a brief overview.
Wood: Pressure-treated wood, redwood, cedar, and tropical hardwoods such as ipe and mahogany are used for wooden decks. Cleaning and sealing is necessary every 1-2 years. Cost stays the same over its lifetime.
Composite: Composite decks are made with recycled plastic and wood. Little maintenance is needed, just occasional cleaning with detergent and water. Expensive upfront, but long-term benefits are worth the investment.
Vinyl: Vinyl decks are made of PVC with various textures and colours. No painting or staining required. Washing with soap and water once or twice a year. Very durable; can last up to 4x longer in harsh climates.
Cost Comparison of Decking Materials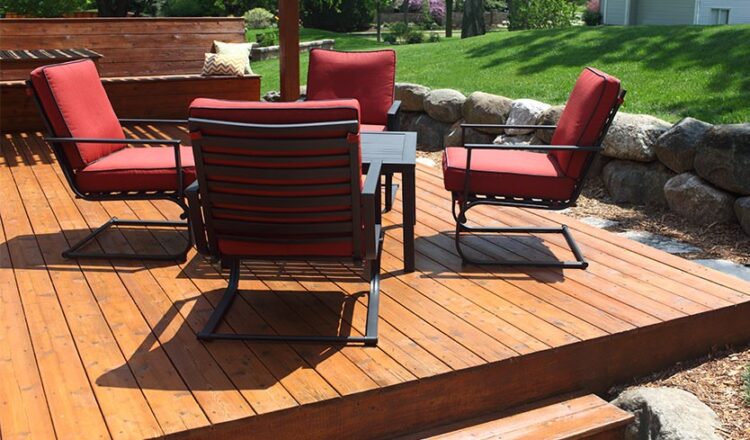 When it comes to selecting a decking material for your outdoor living space, it's important to consider the pros and cons of each option. Not only does the type of material you choose impact the longevity of your deck, but the price tag can also vary drastically. Below is a look at how some popular materials compare in terms of cost.
Pressure-Treated Wood: Pressure-treated wood is one of the most affordable materials on the market, making it an excellent choice for homeowners who are looking to save money. Unfortunately, pressure-treated wood requires regular maintenance and treatment, which can add up over time.
Cedar: Cedar is a popular material that has natural antifungal properties making it resilient against mold and rot. While cedar requires low maintenance compared to pressure-treated wood, it often comes with an increased price tag making this an expensive option in comparison to other materials on this list.
Composite Decking: This is an engineered product made from recycled plastic and other organic materials such as bamboo fiber or sawdust mixed into a blend that offers durability for outdoor living spaces without splintering or rotting like natural wood can over time. It offers excellent value when considering its low maintenance requirements, long lifespan, and moderate price tag when compared to other types of materials available on the market today.
Aluminum Decking: They require no annual maintenance since they will never rot or warp; however, they are typically more expensive than composite and cedar options due to their design advantages such as added stability in addition to their impressive strength ratios for use in windy weather conditions.
Aesthetics of Different Decking Materials
Your new deck is a major investment and feature. There are four popular material types with their own looks, strengths, and drawbacks.
Wood has warmth and character but needs more maintenance. The composite is uniform but lacks unique beauty. Metal has minimal upkeep but is industrial-looking. Concrete can be decorative, resembling stone on a budget. It is the most durable with sealer protection.
Environmental Impact of Decking Materials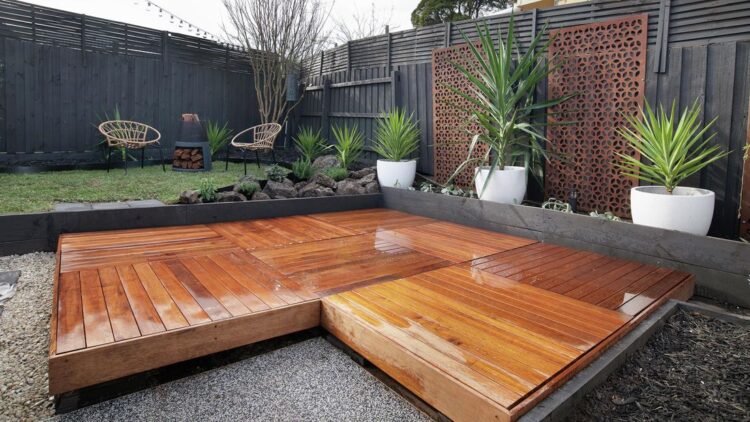 When choosing your materials, it's important to consider the long-term environmental impact. Different materials have their own respective advantages and disadvantages, and by doing research on the options you are considering for them, you can ensure that you make an informed choice. To assist in this decision-making process, it's worth noting that some of the common decking materials offer varying levels of environmental sustainability based on factors such as replenishment rate and carbon content produced when manufactured.
Wood: Traditional wood decks use pressure-treated lumber from local forests that are cut down to a specific length and size. Although environmentally friendly wood treatments add protection from rot, moisture, and insects, there are still some environmental impacts associated with this material option — especially when a large area needs to be covered. The replanting of native trees may help offset these issues; many companies offer responsible tree harvesting practices as part of their business models.
Plastic Composite: Using recycled plastics as part of the production process allows plastic composites to minimize their carbon footprint while providing excellent durability. As an added bonus, they often require little maintenance or repair during their lifespan; however, they should still be checked regularly for any damage or wear due to weather conditions.
Metal: Regardless of whether it is steel or aluminum metal decking material, metal offers excellent durability without needing to replace any pieces during its operational life. It also requires no treatments or sealants like other materials might, although it can be painted for aesthetic appeal over time if needed. The one downside is that metal does not provide insulation value which can affect heating costs in colder climates.
Conclusion
It's up to you to decide which type of deck works best for your budget, location, and aesthetics. Pressure-treated lumber with staining? Composite with minimal upkeep? Or a low-maintenance plastic option that offers stability against temperature or moisture levels? Research is key to getting great results!