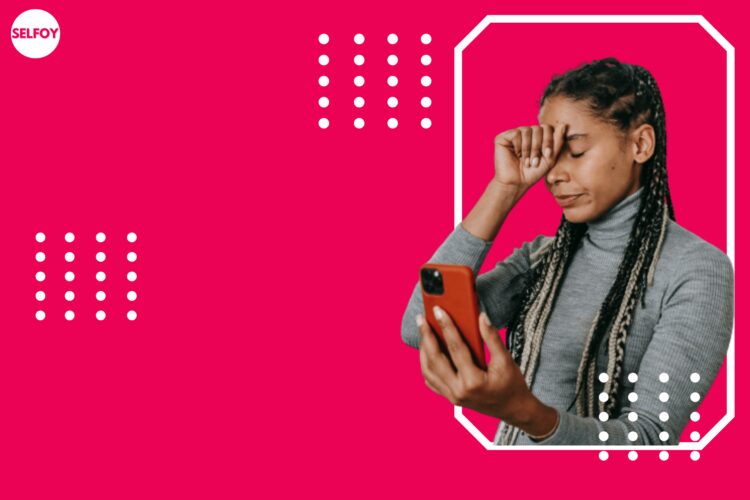 I Keep Getting Dirty Texts From Random Numbers, How to Fix it? (Podcast)
"This number is Blocked" these words on your mobile screen make you relax from all the spam texts. If you ask me I keep getting dirty texts from random numbers what is the best way to avoid them? Then my suggestion for you would be Block the Number. These days it's being normal of getting spam messages but few are interesting while others are much irritating. Spam texts besides being irritating and painful, these many times expose your identity by installing malware on your device to assess your personal identity and credentials.
[Disclaimer: This post may contain affiliate links. This means
As an Amazon Associate, I may earn commission from qualifying purchases with
no additional cost to you.]
Sometimes I keep getting dirty texts from random numbers and I used to get angry when any stranger sent me dirty text messages continuously. After that, I realized that I have to be calm and find a way. One of the best ways to stop this annoying stuff instantly is just blocking them by touching and holding the message thread and then selecting "Block" "Block Sender" or "Block Number".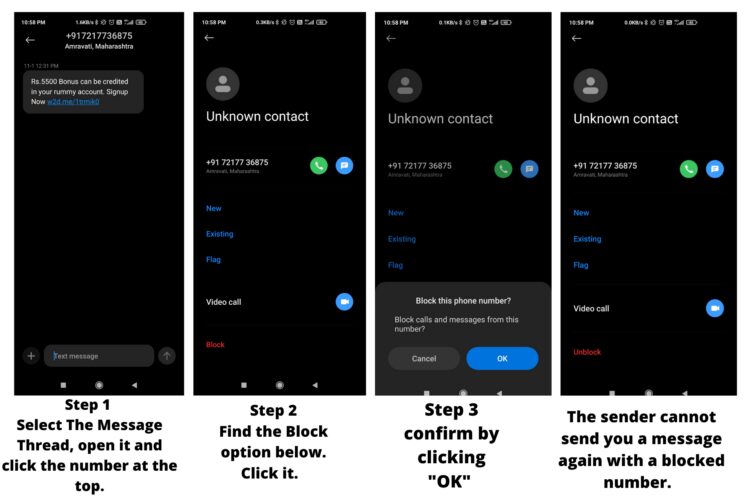 I Keep Getting Dirty Texts From Random Numbers, What To Do?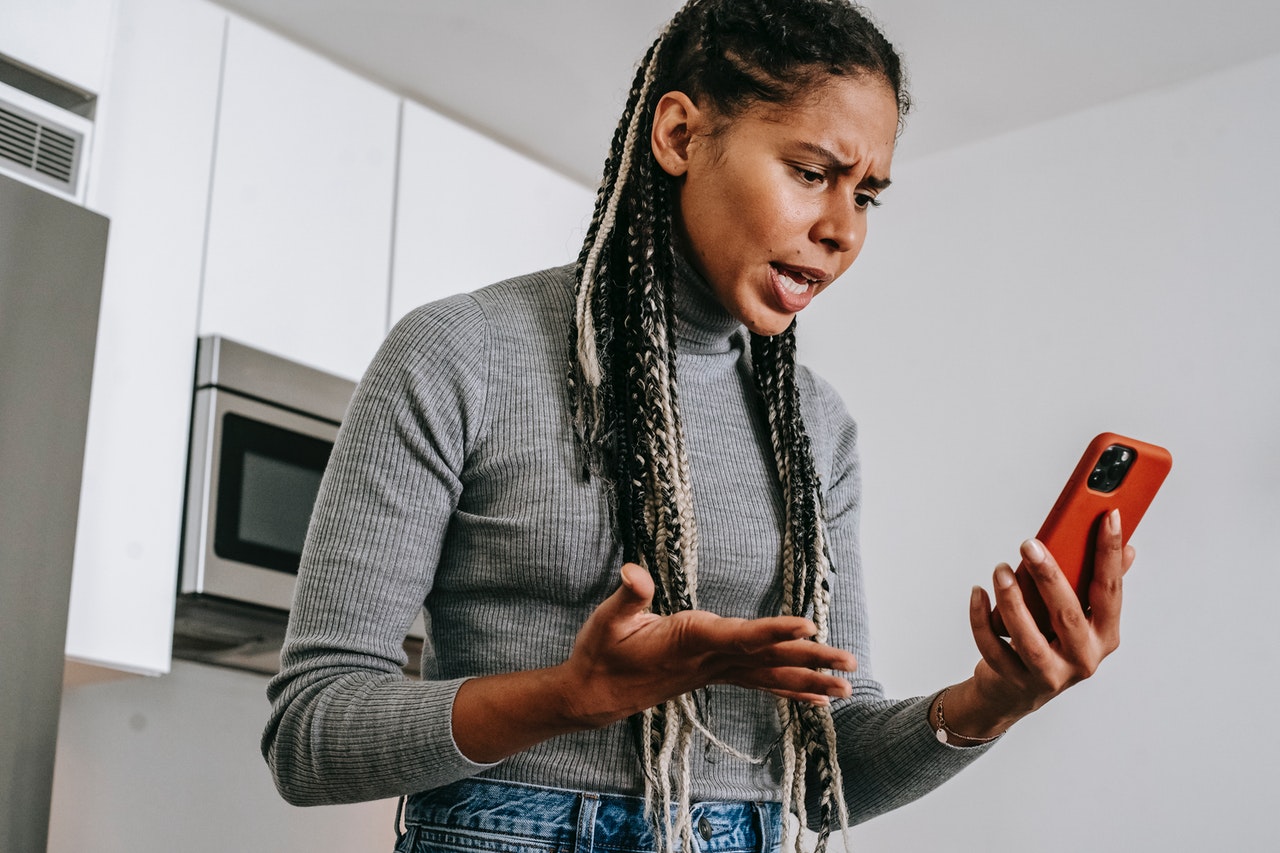 Checklist to follow in case you are getting dirty texts from random numbers. Each point has been explained in detail later in this post.
Don't Reply

Secure your personal information

Don't click on Links

Filter the spammers.

Keep checking your device settings

Register on National Don't Call Registry

Use call blocking service

Report SPAM to wireless carriers
As per the Federal Trade Commission, it's illegal to send spam messages to any device without your acceptance. But misuse of laws is normal these days, where the risk of loss or exposure of personal information has been increasing. It's always necessary to prevent spam messages from appearing on your device without your consent.
Have you ever thought even if you are not a celebrity leading the world, but how you are getting famous with your numbers to spammers?  What's that making the spammers to trap you in this spam?
How Do Spammers Get Your Mobile Numbers

?
Some of us are very common people leading our lives in a very small and comfort zone. We cannot take or accept the risk of our privacy getting exposed to society without our permission.
But at times, we stand in a place where our life gets trapped by hackers. We face issues like our private information like bank accounts, pictures getting hacked, sometimes we also receive unacceptable spam texts and emails which keep us irritating and sometimes painful to which lands us in a state to think Why am I getting spam texts?  How to stop spam texts?
Social Media: We all are very much fond of using social media like Facebook, Twitter which keeps a track of all our personal information especially our Mobile numbers. This helps the telemarketing scams to chase your number for spam.
When you give your number for companies by filling entry forms, signup details, or enroll yourself in any reward programs and surveys. This makes numbers get exchanged from hand to hand.
Automatic dialing devices by telemarketing companies might be capable of tracing out your number without your knowledge.
Read Detailed Report on spam flagging and call blocking for more information.
Why Do You Need To Secure Your Phone Number?
Your mobile number is a way for all the risks. One can know about you, your place, and your information through your 10 numerical. From getting sign up on sites to log in to apps or games, your mobile number is all that they need from you.
All your security passwords, account setups, two-factor authentications need your mobile number as a prime factor for security purposes. Now, assume if anyone gets access to steal your mobile number, then you yourself got theft.
They can easily reset your mobile details by sending an OTP to your device, they can break into your bank accounts, emails, Facebook accounts and they become you which helps them to easily grab you, into their hands. To keep yourself out from worries like getting dirty texts from random numbers and spam texts, it's always a good decision to keep your mobile details safely
Hope these reasons are enough for you to keep your mobile and mobile number safe.
Let's see how we can reduce the risk of spam on our devices.
What Exactly You Will Do If You Are Getting Dirty Texts From Random Numbers?
Don't Reply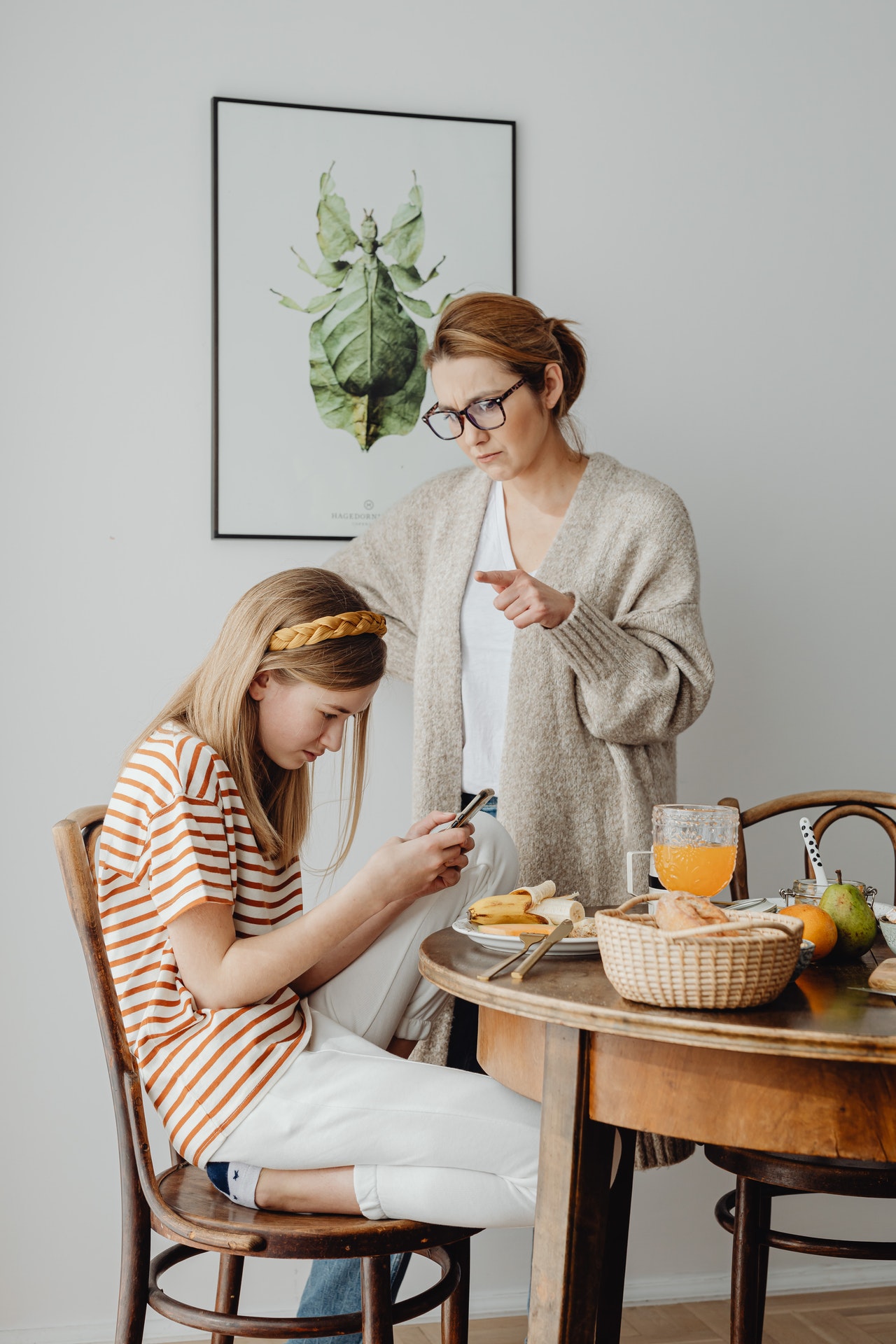 Whenever you are worried about thinking How to stop spam texts? Then the best advice to follow is to Stop Your Reply. Your one reply will reveal your details to the spammer where they can use or sell your identity for advertising the other spam products where the chances of exposing your personal information increases. When you don't reply, the spammer might feel your number is inactive, which might make the spammers to ignore your number from the spam list.
Secure Your Personal Information
Do you throw your money or keep it safe? I mean to say, save your personal information as good as you save your money. Keep all your credentials secretly. All bank details, security passwords, card details, etc. may expose your identity to spammers. No companies do request your personal information like account details, passwords through a text message. Avoid sharing these credentials through text messages. Look for the proper company number and details before sharing your information.
Don't Click on Links
Do avoid giving a click. Don't click on any links in the text messages. They can install risky malware on your device and collect your information without your permission. It can spoil the processing of your mobile and make it worse. It may reveal your identity which can be used as a marketing tool for the spammers. Don't be a profit for your spammer.
Filter The Spammers
These days smartphones are provided with access to automatically filter the spammers, so they don't appear on your device even after spammer sending you the text.
How To Filter the Spammers on Android?
Go to messaging app
Choose settings
Enable Spam Protection.
Keep Checking Your Device Settings
Rather than worrying and saying "I Keep Getting Dirty Texts From Random Numbers", better think about what should I do to avoid this spam? The very best solution for your worry is to Update your device. Keep checking your phone settings. When you feel like receiving unwanted spam frequently, just go to your settings and change them.
In a mobile setting, you need to check whether any unwanted app has been installed or not. If you feel any application is suspicious then remove it immediately.
Today all smartphones have inbuilt access to the "Block" option which blocks your spammer and keeps them away from you.
For Android Phone:
Click on 3 dots seen on the top right corner of the android phone.
Select People and Number
Block your required number
  For iPhone:
Click on "i" on the top right corner
Select People and Number
Block your required number
Register on National Don't Call Registry
The National don't call registry of the Federal Trade Commission, helps you to avoid receiving telemarketing calls. It helps you stay away from the spammer and reduces all unwanted calls.
Use Call Blocking Service  
There are a few third-party calls blocking apps that helps you to block the call for a specific period of time of your choice.
I personally use truecaller. Truecaller is one of the best applications. We can easily block anyone quickly with the help of truecaller. At truecaller you get to know about unknown caller's name so that you can guess that whether you should receive it or not. If the same number started calling you again and again then you can block it over a truecaller.
You mail
True caller
Trap call
How to Block Spam Numbers to Avoid Getting a Dirty Text From Random Numbers on the Truecaller Application?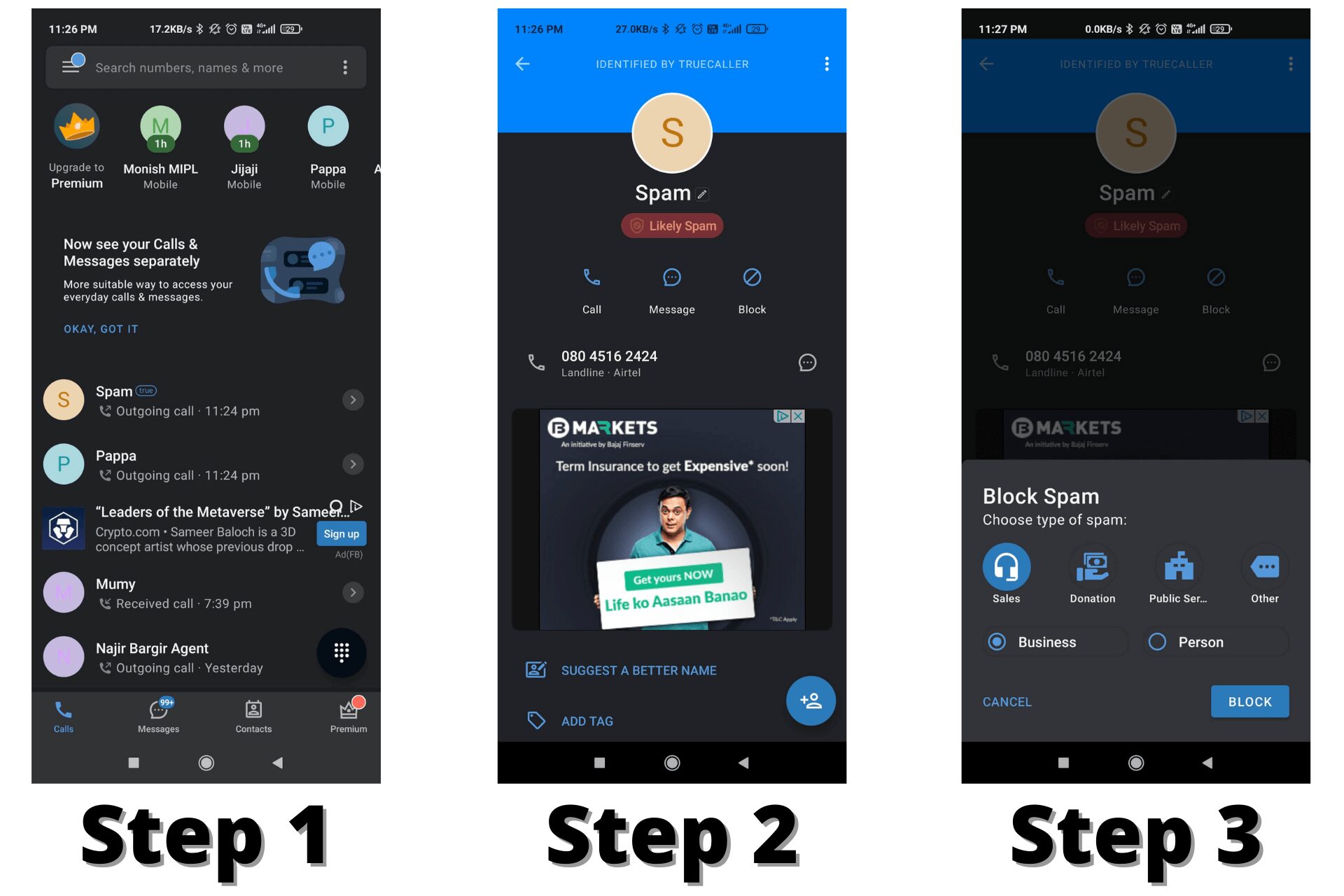 Step 1: Open the Truecaller application. you will see an interface and you will see recent call logs.
Step 2: Select the number you want to block.
Step 3: You will see a "Block" option.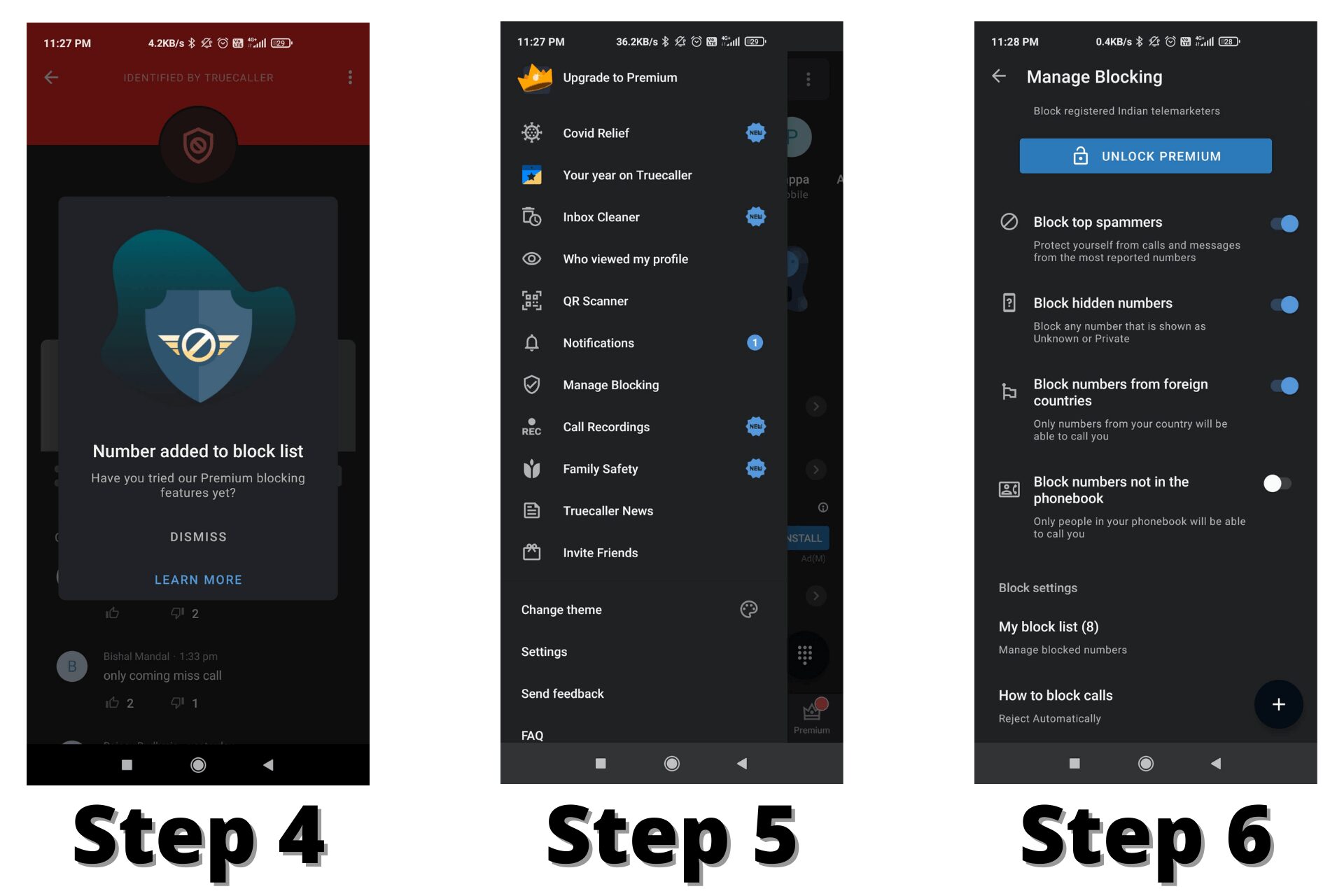 Step 4: Select it and choose what type of call it was such as call from sales, Donation etc. click on the "Block" blue button.
Step 5: You will see the number will be successfully added in the block list. Now go back to the main dashboard and select the "Hamburger" icon at the top left corner. you will see list of menus.
Step 6: Select the "Manage Blocking" option from the menu and check relevant options. Getting dirty texts/calls from spam numbers will get minimized.
Report Spam To Wireless Carriers
Wondered how to send a spam text to wireless counter? Follow these steps.
Message to 7726 (At & T)
Wait for the response. They will ask you to send the phone number of the spam text
Reply with that Spam Number
They will block and prevent receiving spam texts from other numbers.
Wireless Carriers who takes an investigation on spam messages:
At & T
Sprint
T- Mobile
Verizon
Conclusion
Smartphones are like Mirrors. They reflect always what we are. So, it's always advisable to keep your smartphone and numbers safe to reduce the risk of exposure. Before saying, "I Keep Getting Dirty Texts From Random Numbers, what should I do?".  Let's think and learn about how to avoid phone numbers being a reason for the risk of our exposure to society. Keep learning about the new guidelines and precautions to avoid revealing your details and privacy to the hacker.
Read Related: I Clicked On A Link In a Spam Text | What To Do Next?