You know the right dining stools if you frequently host parties or family gatherings. Comfortable chairs are a must for your visitors. They can rest and chill in these chairs. However, you will encounter many options in shape and style, like B2C Furniture's dining chairs.
A new dining table needs good dining seats. Aside from the design, you also need to know other ways to look for high-quality dining chairs.
1. Dining Area and Table Size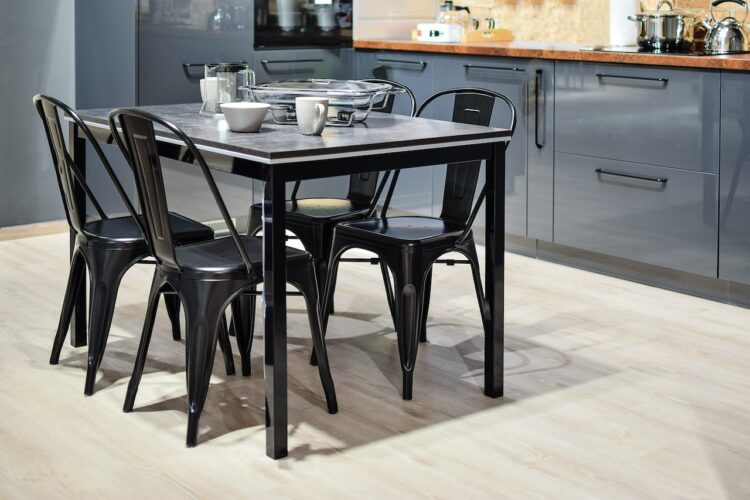 Knowing the measurement of your dining area and table will help you decide on the number, size, and space you need for dining sets. The process includes measuring the thickness of the tabletop and actual height using a measuring tape to get an accurate size. Also, consider your table's shape, especially oval and rectangular, which can accommodate more than round and square tables.
2. The scale of Chairs and Table
Commonly, about 17 to 20 inches is the usual height range that would fit with the dining table. Since most tables are 30 inches in height, you should have a distance of 8 to 14 inches from the tabletop to the seat to get comfortable seating.
It would be best if you had comfortable seating with the dining table around 10 to 12 inches for the distance. However, these measurements will also depend on factors like the size and thickness of the tabletop and diner.
3. Spaces for Each Chair
Assessing the comfortable space for every seat then helps you know the exact pieces you need. Prioritize the number of seats occupied daily to help you maximize the space and reduce unnecessary expenses.
There should be enough space between stools at least 6 inches except for chairs with arms that tend to take up more space. Also, consider leaving 36 inches between the wall or furniture in your dining area.
4. Width and Depth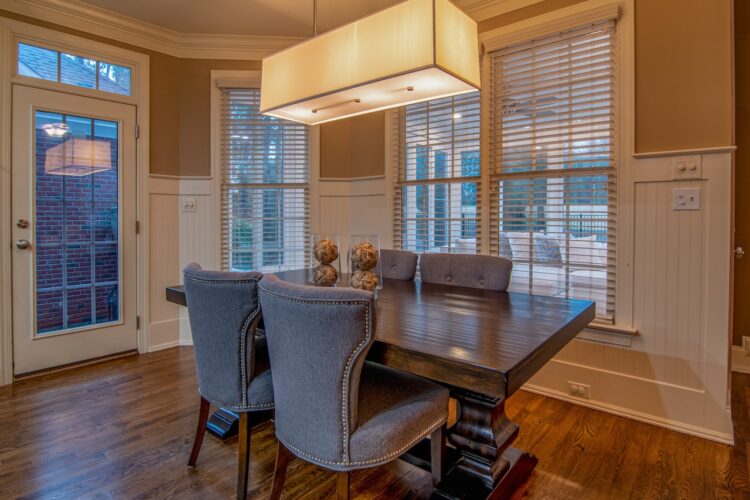 When not in use, you still want to get the right fitting size of sittings under the table. Keep a good distance between the stool and table legs to protect your table from damage. You must consider the size and shape of your tables and chairs if it's round or square.
Also, ensure that the seats have enough space when pulled or used. Each person's seat should have enough space not to bump each other's knees or legs.
5. Preferred Seat Height
Seating height could be tricky since people may have different comfort levels for each range. The best way to get your preferred seating height is by measuring a chair's distance whenever you dine out. You can also test different brands from your local furniture shops to the store's tables the same height as your dining table.
If you feel more comfortable in one, measure the tabletop onto the seat's top edge. However, you must keep in mind the material of the dining set.
Some tables may have a cloth or apron, and you would want to measure it from the bottom of the apron to the seat's top. For chairs with upholstery, you need to get the measurement with and without a person seating into it.
6. Back Heights and Arm
The back height of the seat is higher than the tabletop or at least a difference of 2 inches for the back height of the tabletop. If you prefer a table with arms, consider the arm's height and would not bump or bush on the tabletop or apron. You should have enough space to keep everyone at the table when eating.
Always consider each family member or person in your house that uses your dining area. If you have toddlers, pregnant women, or older family members with knee problems, consider having at least one armchair. The chair can help support and prevent accidents when going in and out of the dining table while eating with your family.
7. Style and Material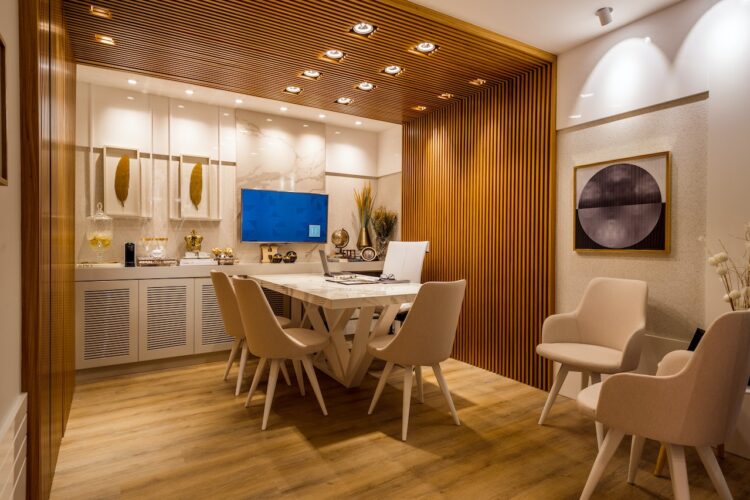 The overall piece of your dining area should look good together. You may have different themes for your dining; the seats and tables should complement each design. There are a ton of styles and designs that you can try. Some would prefer a single-element design or want to match the undertone and the finish or want a modern and minimalist style.
You can choose from a range of popular dining chair designs like:
Mid-century modern dining
Coastal dining
Industrial dining
Farmhouse dining
Bohemian dining
The material from which the chairs are made also take an important piece in your dining area. It would help if you considered the style of your dining, furniture, and table in looking for the materials. The common materials used for stools that you can find are metal, fabric, and leather chairs.
Chrome or metal stools are complementary to the modern and minimalist dining area. You can also get leather seats that are durable, easy to clean, and especially perfect for a formal and classic design. While fabric chairs tend to show a more cozy and welcoming feeling. However, fabric chairs can be hard to clean as they are prone to stains and dirt.
Buy Chairs in Person
Many people prefer online shopping, even furniture, and some brands offer high-quality products. Though, you can still scan through reviews to know common issues of the product. However, holding and trying them in person is the best way to get the perfect dining chairs that fit your needs and preference.
You'll be able to try different chairs you may not think you would like. Try sitting, shift your weight, and check for factors like sitting height, durability, and structure. Also, move the chair like how you would use it daily.
Know Your Comfort Level
The most important thing to remember is your comfort level in the wide range of choices of high-quality dining chairs. You also have to look for a design that will fit your space, theme, and preference. High-quality dining sets are necessary to level up your daily meal time.