Are you looking for the perfect gift to show your employees, clients, or partners how much you appreciate them? Canadian Corporate gift baskets are a thoughtful way to express gratitude while leaving a lasting impression. From gourmet snacks and candies to spa kits and coffee bundles, there's something for everyone! In this blog post, we will explore the art of corporate gift-giving and provide some tips on selecting the right basket for any budget.
Whether it's the holiday season or not, your recipients will be sure to feel special when receiving a carefully curated package filled with delightful surprises!
Why Should You Consider Them for Your Business?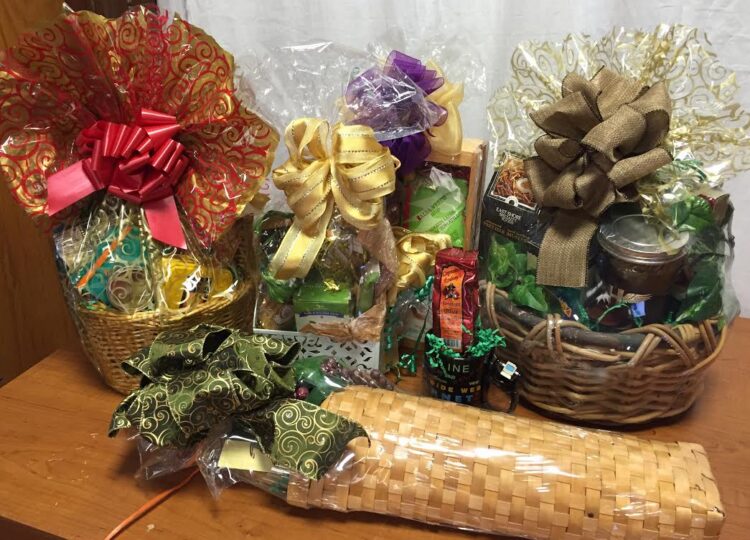 Corporate gift baskets are a thoughtful way for businesses to show their appreciation to their clients, employees, or partners. Not only does a well-presented basket demonstrate thoughtfulness and care, but it can also be tailored to represent any brand or message. Companies can customize the items in the basket with their own logo products, corporate cards and literature, promotional products, and product samples.
Baskets work well as awards during incentive programs, holiday gifts, or refunds on special occasions. Corporate Canadian gift baskets provide customers with an array of quality products packaged professionally which creates a lasting impression and can be beneficial in building customer loyalty.
Considerations When Purchasing a Corporate Gift Basket
Purchasing a corporate gift basket is a great way to show appreciation and thoughtfulness in your business dealings. Before you start putting one together, it is important to think carefully about the kinds of items you may want to include. Make sure that all the items are appropriate and have quality, You'll also want to think about budgeting and how much you can afford. You don't always need expensive gifts—other thoughtful gestures such as a handwritten card go a long way.
Additionally, be mindful of any allergies or dietary restrictions of your recipient when selecting what products should be included in the basket. Doing research ahead of time and careful consideration during the purchase process will ensure that your corporate gift basket will be well-received and leave an excellent impression.
Create a Budget for Corporate Gift Baskets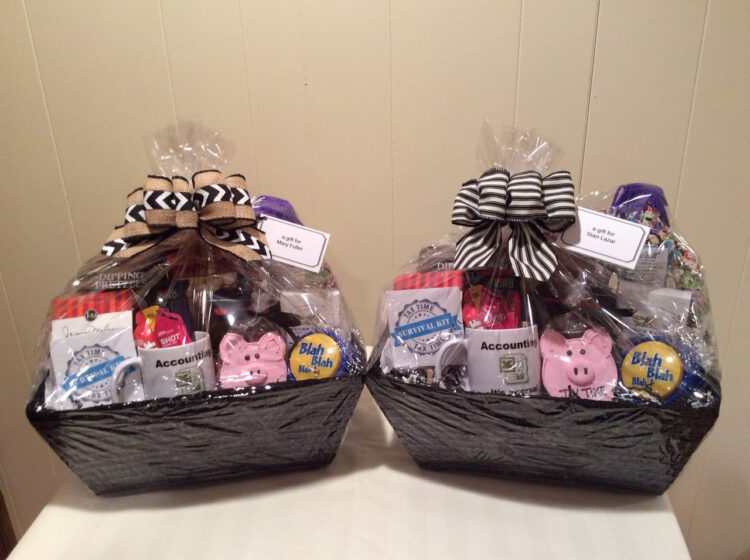 Creating a budget for corporate gift baskets can be tricky. One way to look at it is that you should spend somewhere between one to three percent of your company's total revenue on gifts. If your company's revenue is low, consider keeping costs to 1-2% of the budget and if your budget has more space, up to 3% in additional spending can enhance employee morale and value.
Focus on items that have quality and perceived high value such as gift cards, tickets, and experiences are often much appreciated by employees. Gifts should be tailored to the recipient's tastes while staying on the side of conservative. Remember, engagement with your employees isn't just from costly gifts but also from recognition of their effort and worth within the organization.
How to Choose the Right Type of Gift Basket for Your Business
Choosing the right type of gift basket for your business can be a tricky task. There are many factors to consider before making a decision, such as the size of your recipient list, the values of your company, and the occasion for giving. When determining the size of your basket, you'll want to choose something that can accommodate all of your items without being overly bulky or large.
Additionally, crafting a unique basket tailored to reflect the values of your company shows thoughtfulness and appreciation to recipients. Finally, selecting items in accordance with the particular occasion will show that you are thoughtful in choosing gifts. With careful consideration, choosing the ideal gift basket for your business becomes a breeze!
What Items to Include in a Corporate Gift Basket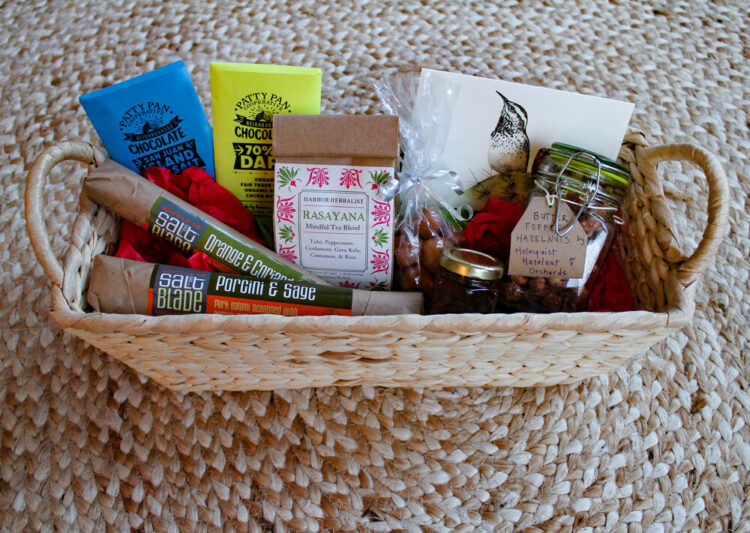 A corporate gift basket is an excellent way to show your appreciation and provide a memorable impression. Depending on your audience, the perfect items for a corporate gift basket can vary. High-quality items such as notebooks, water bottles, pens, and other office accessories are great choices for any recipient. Adding snacks or drinks such as nuts, popcorn, tea or coffee is also a nice touch.
You may also want to include branded swag like shirts or hats with the company logo for demonstrating recognition and strengthening the brand loyalty of customers. Ultimately, when selecting items for a corporate gift basket it's important to think about what items would be best suited for your clientele and how they would reflect your brand and appreciation.
Best Practices for Choosing the Right Gift Basket Supplier
Shopping for gift baskets can be a tricky affair, as there's usually a plethora of options to choose from. The best way to guarantee success is by making sure you pick the right supplier; this is why it's important to undertake some due diligence prior to making a purchase. Start by researching reviews and customer feedback in order to get an understanding of each company's reputation and customer service history.
Have a look into their corporate sustainability strategy, since social responsibility and ethics should play an important role when choosing your supplier. It's also important to assess the product range they offer, plus any associated warranties or guarantees they provide – making sure they have everything you need while having peace of mind if something goes wrong. Ultimately, careful research and selection are the keys that will lead you to the perfect gift basket supplier.
Conclusion
Corporate gift baskets can be an excellent way to show your appreciation for colleagues and clients, keep relationships strong, and ensure that your recipients are well taken care of. With the right amount of research and consideration, you can find the perfect corporate gift basket for any occasion. Consider what you want to include in the basket, create a budget, be aware of any necessary regulations, look for suppliers that fit your brand values, and know what restrictions there may be when it comes to delivery options.
With these steps in mind, you can make sure your corporate Canadian gift baskets have all the right items and will arrive at their destination on time. Taking the time to put thought into finding the right corporate gifts highlights just how much you value those who do business with your organization.