Are you looking to create the perfect summer oasis in your backyard? Well, don't forget about the most important element – lighting! Whether you're lounging by the pool or having a pool party, proper lighting for your backyard pool is essential.
In this blog post, we'll discuss some of our favorite tips to help you choose the right lighting for your outdoor oasis. So, keep reading and get ready to set the right mood for your next backyard:
Benefits of Pool Lighting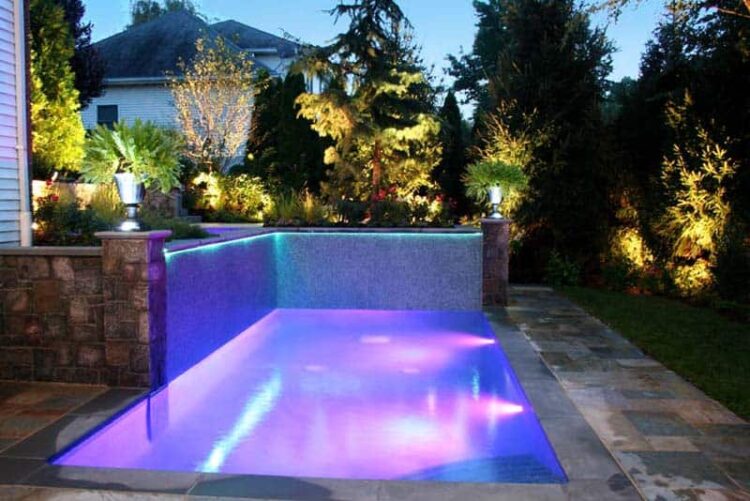 Perfect lighting provides convenience, beauty, and security – all in one product. By adding lighting, you can enjoy your backyard pool area long after the sun sets. Strategically placed lights add accents to your hardscapes while illuminating a large area with fewer fixtures. Safety also gets a boost with additional illumination; adding a lamp to stairs and walkways prevents tripping hazards, and lamps around the pool edge make it easier for everyone to stand out at night.
In addition, they act as an effective crime deterrent when on at night.
When selecting them for the pool area, you'll want fixtures that are UL-rated for wet locations and certified for use in water features such as fountains and bubblers. Additionally, look for products that are energy efficient such as LED or solar-powered options which require less wattage than incandescent bulbs, and provide consistent illumination over a longer period of time.
And last but not least – don't forget to include some fun elements like underwater lights or landscape uplights. With these considerations in mind, you'll have everything you need to create a beautiful outdoor living space that can be enjoyed day or night!
Considerations for Placement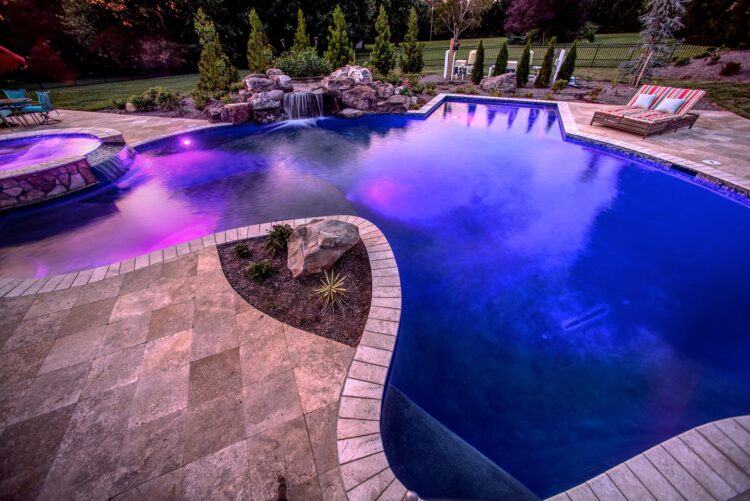 Choosing the perfect scheme for your backyard pool should not be taken lightly. Not only will it affect the look of your outdoor space, but it can also impact ambiance and safety. It is important to consider a variety of factors when deciding where and how to place lamps near your pool.
The location and type you choose affect the amount of energy used and will have an impact on your budget. Additionally, you must consider the elements in which you want to illuminate, such as benches, steps or paths. Knowing exactly what areas you need lit will help narrow down the type of fixtures required. One way to determine this is by researching different lighting options online or by consulting with a home decor expert or professional contractor for assistance.
When selecting placement for your lamps, look for areas that are away from foot traffic yet still close enough that people can easily locate them when needed. The placement should also be done thoughtfully in order to avoid direct glare from nearby windows or other obstructions in view from seating areas that may cause discomfort or distraction while swimming or relaxing outdoors. Additionally, if there are nearby trees or shrubs, consider planning a backup source of electricity in case winter weather causes power outages due to fallen branches/trees.
Lastly, make sure that all lighting fixtures are waterproof and UL-certified so they won't corrode over time with saltwater exposure or get damaged due to wet weather conditions such as snow storms or heavy rain showers. Taking these considerations into account before you purchase your fixtures will ensure that you are getting the most out of both function and design when adding lighting elements to your backyard pool space!
Color Temperature and Brightness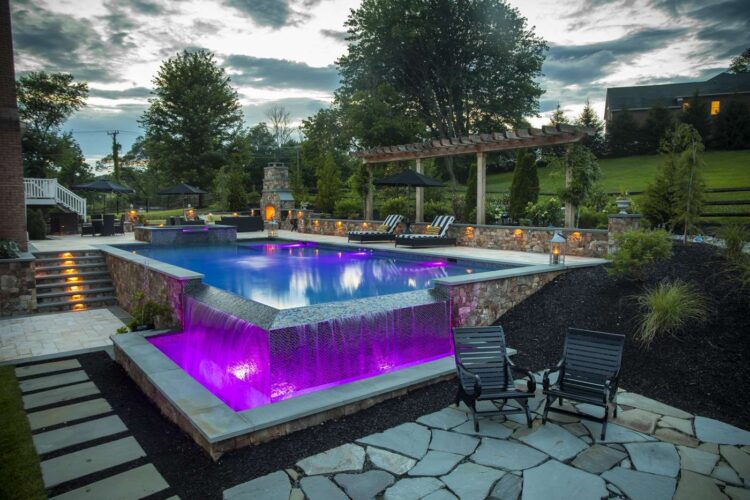 It is important to consider two main factors: color temperature and brightness.
Color temperature is measured in degrees Kelvin and describes a light's hue on a scale ranging from warm white to cooler hues. A lower color temperature provides warmer lighting while higher temperatures emit cooler, bluer light. Color temperatures range from 2200k which provides a candle-like warm glow, to 2700k which creates a bright yellowish light similar to that of daylight.
Brightness for any of these systems is determined by its lumens rating. As the lumens increase, so does the intensity of the illumination. To achieve an ambient yet the safe level of light around your pool, it is recommended that non-directional lights offer between 300 and 500 lumens each. Directional lights such as spot or flood lights however should ideally range from 1000 to 1500 lumens per fixture for optimal coverage and illumination within your backyard space.
Maintenance and Troubleshooting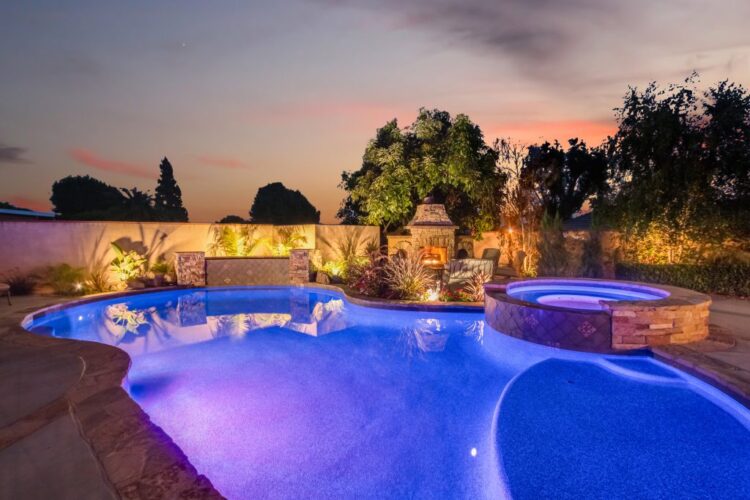 Keep your backyard pool illuminated with the perfect setup with these maintenance and troubleshooting tips. It's important to know how to maintain and troubleshoot any lighting system in order to get the most out of your illumination. Here are some useful tips:
Check the electrical components of your lighting system regularly. Make sure all wiring is in good condition and look for any signs of damage or wear.
Perform regular bulb/fixture checkups. Most pool lights have a lifespan of about one year, so it's important to replace them promptly for optimal illumination.
Test the switch boxes regularly. Ensure that all switches are working properly by testing them often and making sure there are no shorts or breaks in the circuitry.
Always make sure you use a GFCI outlet when setting up your outdoor lighting setup. This is used to help prevent electrocution in case of an electrical overload by automatically cutting off power before a surge can occur.
Be sure to use waterproof seals around cords and junction boxes when connecting lights near water sources such as pools, hot tubs, or ponds.
If you have an LED system installed in your backyard, make sure that it is compatible with your fixtures before applying power. Some LED bulbs require special connectors that may not be compatible with traditional wiring systems, so double-check before use!
Conclusion
With so many products, styles and technologies to consider, it's easy to get overwhelmed. The best way to ensure that you make the best decision for your space is to do your research and take the time to test different fixtures in person if possible.
Additionally, remember that your options aren't limited to just one type of lighting – incorporating a variety of lights can create a stunning pool side area with tons of ambiance. Make sure to use waterproof lights and pay attention to the wattage when making your selection as you don't want someone to accidentally reach for a hot lamp! With these tips in mind, you'll be sure to light up your backyard pool with style and sophistication.